Throughout the 49ers undefeated start to the 2019 season, the roster has seen plenty of change as the team has dealt with an abundance of injuries. Aside from injuries, the 49ers (6-0) are a very balanced football team with very few weaknesses.
They addressed one —if not their only — Tuesday afternoon, dealing for Emmanuel Sanders with the Denver Broncos, reportedly for third and fourth round picks in the 2020 NFL Draft.
The wide receiver position, and the 49ers' lack of a prototypical "No. 1 receiver" has been a topic of discussion ever since Kyle Shanahan and John Lynch took over the team in 2017.
Before the season started, second-year wide receiver Dante Pettis was expected by many to grab hold of that role. A less-than-impressive training camp, followed by a quiet start to the season, has Pettis along with the other 49ers receivers not getting a lot of action due to the team's dominance running the ball.
Sanders has emerged as one of the more underrated wide receivers in the league since a breakout year in 2014 with Denver. His talent brings a much-needed upgrade at wide receiver, a position where the 49ers have, in the past, been adamant about developing their own talent.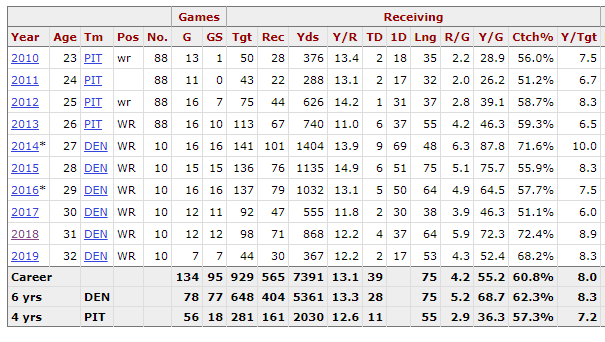 In the offseason, the 49ers traded away a second-round pick in to acquire Dee Ford, and if we're taking inventory, that leaves the 49ers without 2nd, 3rd, and 4th round picks in next years draft.
Shortly after news of the trade broke, ESPN's Adam Schefter gave more insight into how the deal went down, and what the 49ers immediate intentions are with inserting Sanders into their scheme.
The 49ers offense gets a much-needed boost in the passing game. As fun as it might be, the team cannot rely on George Kittle to carry the load. The addition of Sanders should help the 49ers offense reach its full potential, just in time for a tough matchup against the Carolina Panthers (4-2) on Sunday.